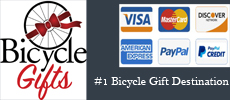 Secure Online Ordering and Payment Policy
You can shop at Bicycle Gifts with confidence. We adhere to strict industry standards for payment processing. Protecting your private information is our priority.
Bicycle Gifts secures your personal information from unauthorized access, use or disclosure. When personal information (such as a credit card number) is transmitted to other websites, it is protected through the use of encryption using the Secure Sockets Layer protocol (HTTPS).
Payments are processed using industry leaders Square and/or PayPal. Bicycle Gifts does not keep or store your credit card information.
If you have other privacy concerns, please do not hesitate to contact us.